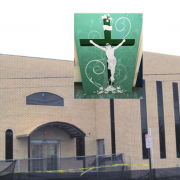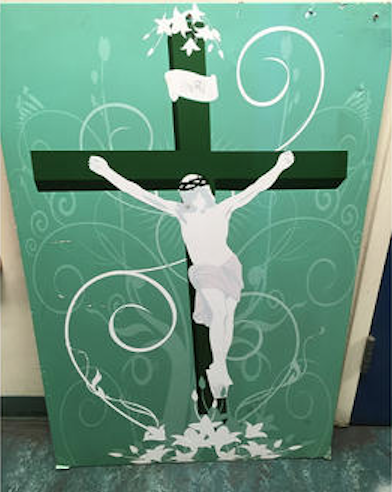 A large painting of Jesus on the cross was left at a Long Island, NY Islamic center. Was it a sign of LOVE or Hate? Well, it's likely Liberals got a hold of the story and have pressured police to investigate the innocent gesture as a hate crime. The Jesus painting was found Friday on a fence of the Islamic Center in North New Hyde Park, Nassau County police said. On Friday, a painting of Jesus Christ hanging on the cross was left on a fence outside the Hillside Islamic Center in Long Island, New York. Now, the Nassau County Police Dept. is investigating the incident as a "hate crime."
"A worker there had found this lovely painting of Christ on a cross on the property," reported an anchor for NBC 4. The Liberal News anchor went on to say that "The anti-Muslim message was found hanging from a fence, deemed to be a hate crime obviously because it was a mosque." But this leaves one to ask, "Muslims believe Jesus as a great teacher of God" considered a Prophet in Islam. Also no one argues that Jesus was the epitome of Love, so then how can this be a hate crime? The answer is, Because Liberals NEED a victim!
But to be sure, "Nassau County police said they are investigating the incident as a possible hate crime." Yes, the world has gone crazy. Rather, Liberals are crazy and their heads explode when they see such a gesture of Love.
The so -called "anti-Muslim message," as the NBC 4 anchor labeled it, was a green and white painting of Jesus' silhouette hanging on the cross.
A man was caught on camera hanging the painting on the outside of the Islamic Center's fence. The police department instructed anyone in the community with additional knowledge of the incident to contact a 1-800 tips number.
A reporter from News 12 stated "Members of this North New Hyde mosque feel someone tried to attack their religion Friday," "The reaction was kind of surprised, that in this community, we've been here since 2002, this is the first time it has happened," said a member of the Hillsdale Mosque.
Another member of the congregation said that, although Jesus is considered a prophet in Islam, "that's not what he meant" when the man hung the painting on the center's fence. Apparently the member is also a mind-reader and psychic. If a Christian left the same painting on ANYONE else's fence it most likely would mean, "we believe He died for ALL of us" Hardly a message of hate when you are of the belief that Jesus made the greatest LOVE sacrifice known to man, he died on teh cross of ALL of us!
"He meant something else, you know. We don't believe in image. We don't have image for Jesus, you know. We don't have image for Muhammad." So they don't believe a painting that illustrates the image of someone who walked and talked with man 2000 years ago as legitimate.
News 12 Long Island finished its coverage of the story by reporting that the Islamic Center will host an "interfaith barbecue" on July 21 in "hopes of building trust and understanding in the community" and urging viewers to call the tip hotline if they have any more information. But although Christians are invited to the barbecue, keep your beliefs and messages of hope and love to yourself… it might be misconstrued as a hate crime when you are at a Muslim barbecue.